CAREER
INTERESTS
ASSESSMENT
JobVision is a career guidance tool that assesses professional interests and talents, helping people identify their professional orientation and relevant occupations.
JobVision is built around the widely used and recognised RIASEC model of vocational interests developed by American psychologist John Holland.
Quick and easy-to-use
Reliable and science-based
Simple, accessible language
Multilingual and globally available
Whether a student or a career changer, JobVision helps you take control of your career journey.
Clarify your professional interests, natural talents and work preferences.
Identify fields of work and occupations and that will be rewarding and stimulating.
Select fields of study and jobs that suit you and will help you to achieve your ambitions.
JobVision results help you gain insights about yourself to make better career choices.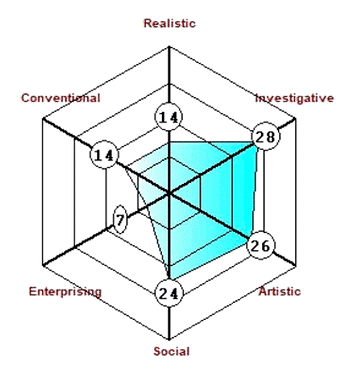 JobVision RIASEC typology (example) radar chart representation
John Holland's RIASEC model (also called the "Holland Codes") refers to a theory of careers and professional choice that is based on personality types. The expectation is that by finding professions or workplace environments that are a good match for personality, people are more likely to achieve professional success and fulfilment. The RIASEC typology is determined by measuring the degree of affinity with each of the following six personality types: Realistic, Investigative, Artistic, Social, Enterprising and Conventional. For most people, it is mainly two or three types that are indicative of their interests and approach to situations. Each type or combination of types correspond to different professions or professional activities.
An introduction to JobVision, the RIASEC model and typology
A summary of the profile results and RIASEC typology ranking
Proactive vs. reactive personality measurements
Detailed description of the typology results highlighting the important first and second dimensions
Preferred fields of work, work tasks and typical occupations corresponding to the typology
While some might argue that even jobs you love sometimes feel like hard work, most agree that choosing a career path that suits your personality, interests and natural talents is more likely to lead to job satisfaction and professional success. This is the philosophy behind JobVision.  
"Choose a job you love and you'll never work a day in your life"
Frequently quoted career advice
often credited to Confucius 
Get started in just 15 minutes
JobVision takes on average 15 minutes for respondents to complete
The questionnaire is 72 easy-answer questions with no right or wrong answers
The 6-page JobVision report is received by email shortly after questionnaire completion
Assessment is available in English, French or German
As with all Versus assessments, responses and reports are treated confidentially.